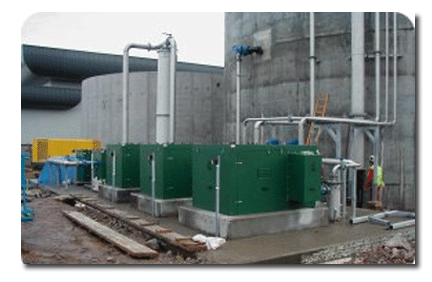 Anaerobic Digestion (AD) is the preferred stabilisation process for the treatment of wastewater sludges and organic wastes. The process provides volume and mass reduction and delivers valuable renewable energy with biogas production.
Anaerobic digestion is a naturally occurring biological process comprising the following key steps:
Enzymic Hydrolysis – large molecules/polymers such as polysaccharides and proteins are converted to smaller compounds
Acidogenesis – conversion of small compounds to Volatile Fatty Acids (VFA) by anaerobic digestion
Methanogenesis – Volatile Fatty Acids are broken down by methanogenic bacteria to methane and CO2
Monsal's Anaerobic Digestion Technology can be supplied as either equipment/systems packages for process units such as heating, mixing, pasteurisation and biogas handling plant, through to complete digestion projects.