Recycling construction and demolition wastes (concrete structures, bricks, block-work, road materials and so on) is fast becoming a major source of aggregate and sand for the construction industry. It is good for the environment, and is a financial winner when undertaken professionally.
What they do
CDEnviro Ltd have developed world leading systems over the last decade and are proven to produce high quality, fully certified sand and aggregate from highly variable waste streams. Importantly, these recycling plants include closed-circuit water treatment to ensure there is no waste during the processing phase – ideal for mobile plants and in areas of water shortages.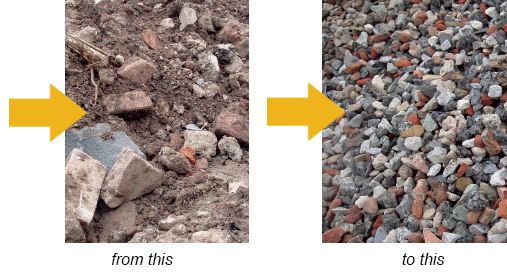 How they work
The plants are designed to break down, wash and process construction and demolition waste materials which can include heavily clay-bound materials, and contain a large number of 'contaminants' such as metal (rebar, nails etc) wood and organic materials. The plants produce a range of washed, saleable aggregates and sands.
Each CDEnviro recycling plant is tailor-made and modular to the client's requirements.
High quality sand
The EvoWash sand plant incorporated in the recycling plant is often a dual sand model, producing both a fine and coarse sand and provides consistently accurate silt cut points at 63 micron. The EvoWash also produces extremely dry sand with approx. 12% moisture content, making it ready for market straight from the belts.
Full water treatment
Following the washing process, the waste water is sent to an AquaCycle thickener where the dosed material quickly forms a thick sludge and settles to the bottom of the tank. The clean water overflows to an AquaStore tank for re-circulation around the system. The thickened sludge is sent to a heavy duty filter press, specifically designed for the quarrying industry. The filter cakes produced (up to 80% dry solids) can be used as landfill or infill, thus massively reducing the environmental impact of the operation.