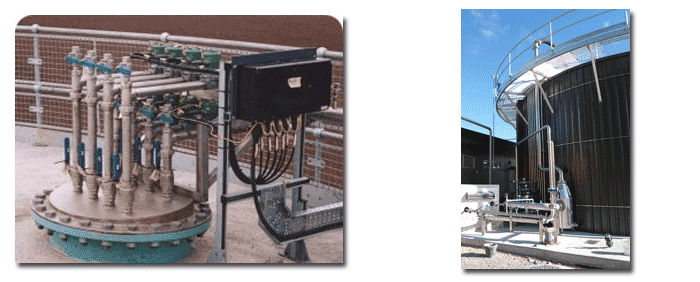 Monsal have expertise in providing digester mixing technology for digesters up to 8,000 m3 volume mixing with conventional sludges, thick sludges, Enzymic Hydrolysis, thermal hydrolysis sludges and organic wastes.
Digester mixing systems use Monsal's proprietary Sequential Gas Mixing (SGM) technology, which has been refined over a number of years to deliver very high levels of mixing performance for digesters.  Monsal has particular expertise in mixing thick sludges or sludges from advanced digestion processes.
JIPL has installed a Monsal-designed biogas mixing plant on the new digester at the Taupo District Council's WwTP.  This is the first Monsal SGM plant installed in Australasia.
Advantages
Proven high-efficiency mixing of digester sludge up to 10% DS
Delivers very high active volumes with the lowest Net energy on the market over other systems, including pump mixing, venturi mixing, and unconfined gas mixing
No moving parts or components within the tank which can block/rag in the digesters
Ensuring a robust and low maintenance installation
Products are manufactured to ISO 9001:2008 and come with a full warranty