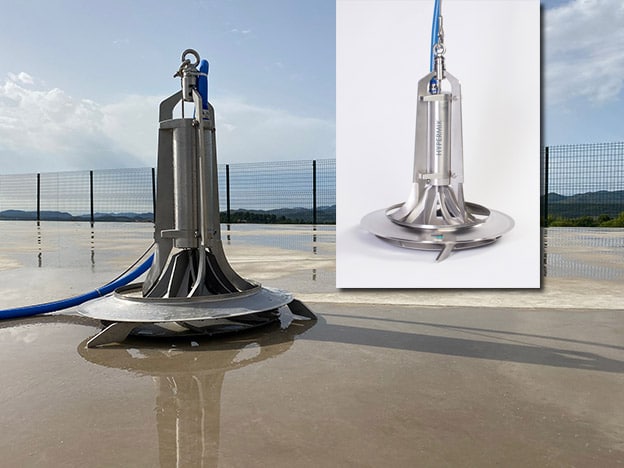 The provision of high-quality water and the purification of polluted water is one of the most important tasks of our time. Drinking water reservoirs play a vital role in the management of safe access to drinking water in our cities and communities. But the treatment and filtration processes necessary to produce drinking water can be costly.
INVENT has developed their HYPERMIX®-Agitator, based on their successful hyperboloid mixing technology, to ensure a safe high standard of water quality and to prevent stratification and deterioration of water quality.
The HYPERMIX®-Agitator, available in New Zealand through JIPL, has just won the 2021 Red Dot Award for excellence
The renowned wine and juice producer García Carrión in Segorbe in eastern Spain uses INVENT's HYPERMIX®-Agitators at their production facility providing an excellent solution for the treatment of their drinking water.
García Carrión relied for years on the supply of drinking water from the public network, until the volume of water it consumed exceeded the volume supplied. The Iberian Peninsula experiences increasing periods of water shortages from April to September, which has affected public utilities. García Carrión now needs three times more water in the summer months than the public supplier can deliver.
To find a solution to this problem and to ensure water supply for the production plant, García Carrión turned to INVENT and purchased two large tanks each with a holding capacity of 18,300 m³. Five of INVENT's HYPERMIX ®-Agitators were installed in the tanks to prevent temperature stratification of the stored water and, post-germination and algae formation. Continuous mixing ensures that a metered disinfectant is evenly distributed in the water.
INVENT conducted CFD (Computational Fluid Dynamics) simulations to confirm the required quantity and positioning of the agitators given the complexity and size of the tanks. Because the tanks have the same volume but are shaped differently, three agitators proved to be optimal for one tank and two for the other tank.
These were assembled from individual components (agitator, drive, lifting cables, connection cable including protective hose, frame and small parts) at INVENT in Erlangen and then tested. The frequency converters used to control the agitators were also configured. García Carrión was able to install the five HYPERMIX®-Agitators in their tanks themselves as a result of this. The HYPERMIX®-Agitators are working excellently and providing the required drinking water.
JIPL is always on the lookout for the best and most advanced technology available and maximising the advantages of the best technology for the benefit of New Zealand is a driving motivation of the JIPL team.
Contact info@jipl.co.nz for all your wastewater and water needs.