Filter presses remove suspended solids from liquids – for either sludge de-watering and/or liquid clarification. There are two main types – standard and membrane squeeze.

Fully automatic filter press at Exide Technologies Ltd (Petone)
How they Work
A plate filter press is comprised of a row of recessed plates each covered with filter cloths.  When the press is closed (via hydraulic ram), slurry or sludge is pumped into the recessed chambers via an end port.  The solids are captured by the filter cloths which in turn pass liquids to filtrate ports for discharge.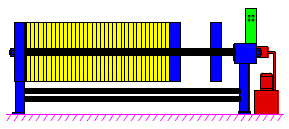 Solids are retained between the recessed plates as a filter cake.  When the process is complete the plates are moved apart and the cake drops out.
Membrane squeeze presses include flexible membranes on one side of each plate.  When the press is full, the membranes are inflated – squeezing the cake to remove additional liquid.  Once squeezed, the cake can be air blown to remove more liquid; and it can also be back-washed to clean the cake.  The membrane press produces the highest cake solids of any dewatering equipment.
The recessed-plates are made from highly heat stabilised polypropylene.  Cloths are also made from polypropylene, though some applications may use paper, felt or special cloths.
Filter Press Features
Batch process – suits many timed-based treatment operations
Solids build up on the cloths and filter themselves
Produces solid cake – for ease of handling/transport
Very high solids capture (> 99 %)
Very clean filtrate (thus used for clarification)
Far less chemical conditioning than other dewatering equipment
High variability of feed materials
Few moving parts – thus has very high on-line availability; and low maintenance
Low energy usage – pump only operating during filling
Long life – press frames are guaranteed for up to 50 years
Can be fully automated with cake discharge mechanisms and cloth washing systems
JIPL have a sophisticated pilot test press permanently available in New Zealand for trial work. It is skid mounted for easy transport, can produce cakes to different thicknesses and features a membrane squeeze option. Utilising the membrane squeeze, it can operate up to 16 bar and cake back-wash and air-blow are also possible.
We can undertake trials on your wastes and effluent and provide a filter press cost-benefit analysis.