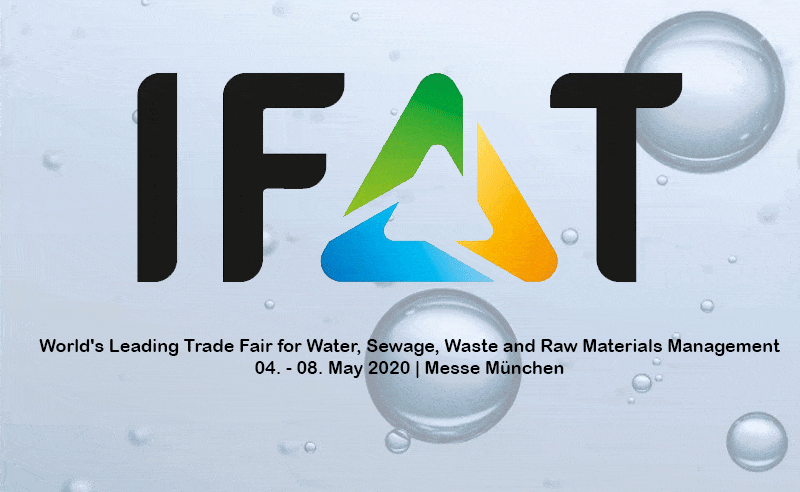 Don't miss out on IFAT 2020 – 4-8 May – the world's leading trade fair for water, wastewater and environmental technologies. IFAT is where you will find the latest and most cutting edge products available—these innovative technologies set the benchmarks for the future.
JIPL and its partners will be attending IFAT and showcasing all the latest products and technologies available. This year, in particular, IFAT's exhibitors are showcasing modern and future-oriented environmental technologies that aim to preserve and responsibly use natural resources in order to conserve them in the long term and increase the quality of our lives and the environment.
IFAT offers us a glimpse into the future.
JIPL's partners will be exhibiting with their state of the art products at IFAT:
INVENT Stand A2.327/426 – leaders in mixing and aeration

INVENT develops, produces and globally implements innovative technical components, systems and processes for water and wastewater treatment

KWI International Environmental Treatment on stand A3. 128
Pieralisi on Stand A1. 227/326
FINE-Elode in Hall B14.413/512
These technologies will benefit us all!
More than 3,300 exhibitors from over 58 countries will showcase their solutions and services for the business of managing and processing water, waste, solid waste and raw materials on over 230,000 square metres of exhibition space in Munich. This event sets the benchmark for the entire environmental technology sector. Anyone who's anyone in the industry knows the benefits of visiting the IFAT exhibition.
Don't miss out. Contact us to set up introductions for you so that you can get the most out of your visit.
Email JIPL at info@jipl.co.nz to set up those important meetings for you.