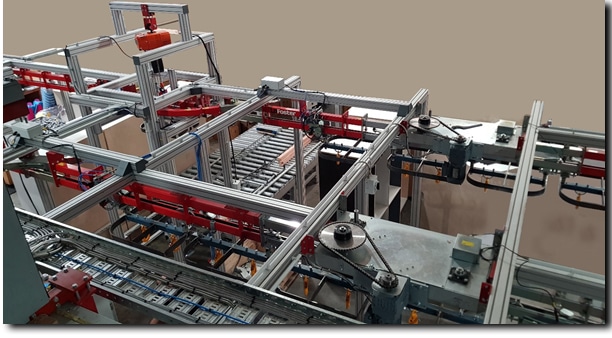 For the ultimate in manufacturing, processing, and material handling flexibility and efficiency, you can't go past the power and free conveyor.
Recently, one of Jonassen Industrial Project's clients, OBO – a leading New Zealand manufacturer and supplier of protective sporting apparel worldwide – approached JIPL to solve some of their manufacturing issues. Worldwide growth in their segment and becoming the dominant player in the industry had placed increased demands on their ageing equipment and processes. It was becoming more and more difficult to meet the additional market demand while still maintaining the high standards of quality their brand was recognised for.
OBO turned to JIPL for an answer and as a result received a state-of-the-art solution to address their manufacturing requirements.
The solution included a new oven with a separate preheat zone and a soak zone, a cooling zone, a power and free conveyor, and a mechanism for the load/unload of heavy moulds onto a section of the conveyor. This required moving the molds from horizontal on a workstation, to vertical on the conveyor.  JIPL executed the full turnkey project including the design, project management, installation supervision, and commissioning services. 
A power and free conveyor uses twin rails – one powered, and one 'free'. A continuously driven top 'power' chain carries pusher-dogs that engage the lower 'free' trolleys to move product forward. They disengage at points where work on the product is desired. This makes power-and-free one of the most popular choices for warehousing and work-in-process assembly.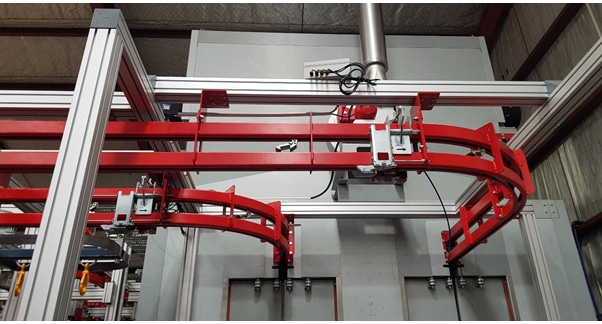 They not only go around and around, up and down (and yes, vertically), and upside down, but they can also perform an amazing variety of functions. An individual load can be stopped online while everything else keeps moving, or it can be routed into a siding (either powered, or unpowered), and then later fed back onto the mainline again. Items can be transferred from one circuit to another (running at different speeds), and then be returned to the original circuit.
On-line production can be incredibly flexible – with products moving to workers, stopping in front of them, and after processing, released one at a time and moved further down the line.
On-line storage is simple, having stopped one carrier, the rest simply auto-accumulate behind. Release one or more items, and the rest simple move up as required.
Almost any processing or storage operation can be carried out automatically, with independent control over every item. Items can be rotated online, automatically loaded, weighed, identified, and off-loaded at specific locations depending on the item weight/size/shape/labelling.
It also means storage can be at a high level, utilising the building roof space, and easy selection of individual items from storage for further processing…all saving precious floor space.
Another major advantage of power and free conveyors is in the wide range of products they can carry, with load capabilities from a few kg up to 12 tonnes. This versatility means an overhead power & free conveyor can handle everything from a small part transported through a paint shop to an aeroplane fuselage.
Importantly, the system can grow with the growth of the business, and automation can be added as growth and/or the need for improved productivity dictates.
JIPL have designed and supplied overhead conveyor systems for companies like Skope and Temperzone.  JIPL's solution for OBO trebled the plant's capacity and is achieving consistent quality throughout the plant solving a key business issue and increasing throughput.
JIPL provides full consulting and design services as well as complete processing plant for turnkey operations.
Email: info@jipl.co.nz to discuss any possible applications you may be considering.