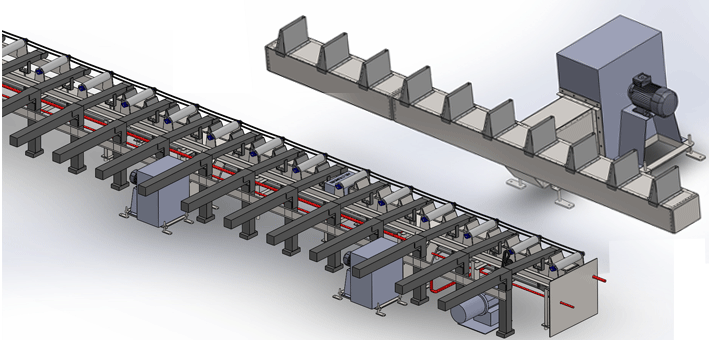 JIPL is at the forefront of technological innovations worldwide and has many years of experience in air transfer technology in both the heating and cooling fields. So when Independent Extrusions Limited (INEX) engaged JIPL to improve their extrusion cooling system, JIPL were ideally equipped to help as experts in this field.
INEX is an acknowledged leader in aluminum extrusions, supplying extruded aluminum to the manufacturing and fabrication industries throughout New Zealand and Australia. INEX have recently seen a dramatic increase in production, and last year called on JIPL to upgrade and extend their ageing oven capacity to deal with this growth.
However, INEX's existing extrusion cooling system couldn't cope with this increase in production. The extrusions needed to be cooled down rapidly immediately after extrusion.
Cooling is a crucial operation in achieving aluminum extrusion metallurgical properties.  Non-uniform cooling induces shape distortion, such as deflection and twisting, but also reduces the ultimate extrusion strength.  Temperature management is key to the process and is carried out for two main reasons:
To enable the metallurgical properties to be controlled and provide consistent product properties
To enable the subsequent stretching and handling of the extruded lengths
JIPL has years of experience in air transfer systems, both heating and cooling and were the first to bring this innovative technology to NZ.
The JIPL team assessed and proposed an under table cooling system to fit under the existing conveyor system. The JIPL design consists of a modular 5 piece unit designed to be installed, as required, down the walking table. JIPL have installed their first unit and are in the process of rolling out the rest of the project – due to the proven success of the first module.
The under-table cooling system is designed to provide a known volume of air at a known velocity over the extrusions to effect rapid and efficient cooling of the aluminum. Turbulent air is discharged as close as possible to the extrusion to obtain maximum heat transfer. The reason for using controlled air flow is that there is an air layer around the hot extrusion, held by a type of surface tension, which must be removed to allow heat to be transferred efficiently from the aluminum to the cooling air.  Therefore, turbulence is a key requirement in calculating the rate of cooling of the aluminum and its effectiveness.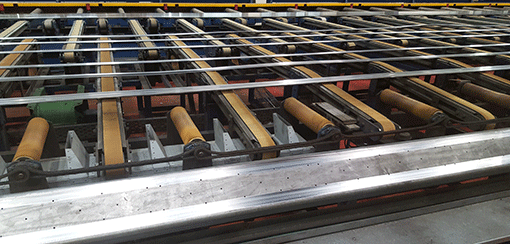 The system is a floor mounted system, out of the way of other equipment and visually un-intrusive, as it fits within the internal space of the conveyor. Being internal to the existing equipment it is much safer in terms of maintenance and accessibility than having a high-level system. The cooling occurs at the start of the run-out table. Variable Speed Drives (VSDs) are included to control each cooling stage and have speed control which allows control of cooling relative to the type and size of extrusion being run. The operator can select this as required. The VSDs and fan controls are sited near the main operator control panel. Noise insulation is installed in all the ducts.
JIPL have provided for INEX:
Detailed heat transfer engineering calculations and detailed manufacturing design for the new under table cooling plant
Equipment supply and project management
Installation supervision
Commissioning and Testing
To ensure that the plant is installed to INEX's specific standards and requirements, JIPL is overseeing the installation and commissioning work at site in conjunction with INEX.
Other jobs in this field that JIPL has undertaken include Fletcher Aluminum and National Aluminum (Nalco).  At Nalco double inlet centrifugal fans were installed beneath the walking tables. The system was designed to cool complex extrusion sections to around 250oc within 60 seconds.
INEX Metals Ltd aim to supply the largest range of aluminum semi-products to New Zealand industries, with exceptional service and quality.
These diverse applications are possible due to the advantageous attributes of aluminum, from its particular blend of strength and ductility to its conductivity, its non-magnetic properties and its ability to be recycled repeatedly without loss of integrity. All of these capabilities make aluminum extrusion a viable and adaptable solution for a growing number of manufacturing needs.
INEX turned to JIPL because of their experience in this field and because it prides itself on its enviable reputation for outstanding product quality and customer service.
Jonassen Industrial Projects Limited understand how to engineer equipment to improve performance, to meet the demands of today and tomorrow, and how to create quality products that provide the best engineered and cost effective solutions for their customers.