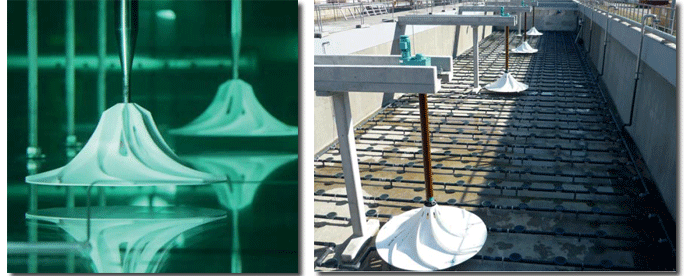 JIPL's overseas supplier INVENT are Europe's market leaders and developed the hyperboloid stirring aeration system. They have a wide range of quality engineered, cutting edge equipment, from dedicated mixers, combined mixer/aeration systems through to specific aeration systems for both tank and pond operations. Their most popular product is the multi-purpose HyperClassic range.
Systems are designed by INVENT to suit each specific project and warranties are provided accordingly.
Advantages
Highly efficient mixing and aeration in one piece of equipment
Mechanical aeration means the oxygen transfer performance is
nearly as high in wastewater as it is in pure water
Can be installed easily even in a filled tank, with a pre-mounted
cage option or the HyperDive submersible option
How it Works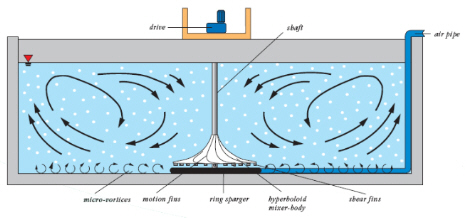 PRODUCT EXAMPLE: HYPERBOLOID MIXER
The hyperboloid mixer/aerator rotates close to the bottom and its 8 integrated and specially optimized motion fins produce a bottom flow which is directed radially outwards. Particularly at the bottom, this flow is highly turbulent and effectively whirls up any depositions.
During the aeration mode, air or gas is blown under the hyperboloid mixer-body via a separate pipeline and specially designed sparger system. As the mixer-body rotates, the air in the dispersing tunnels is mixed intensively with the wastewater and is torn into the smallest bubbles by the shear fins.
Industries Using this Technology
INVENT's cutting edge mixing and aeration equipment is installed in a wide range of industries worldwide, such as:
Municipal wastewater treatment

Pulp and paper industry

Petrochemical industry

Chemical/pharmaceutical industry

Breweries & soft drink bottlers

Food industry

Textile Industry

Tanneries