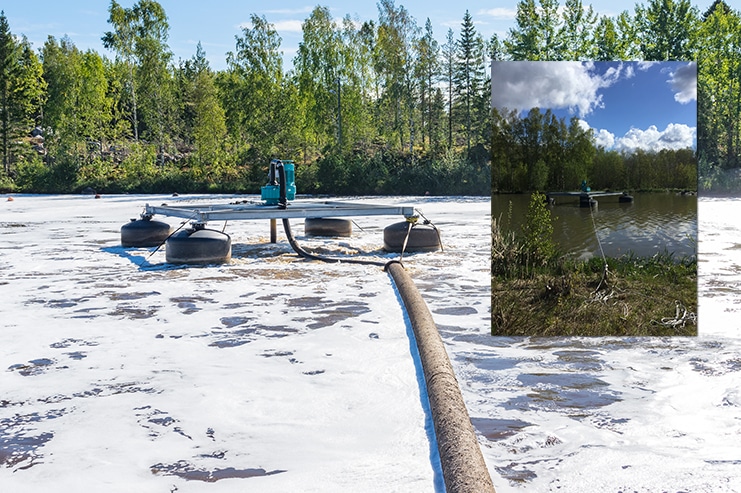 The HYPERCLASSIC Mixing and Aeration System Float is the world's first floating mixing and aeration system for wastewater treatment ponds demonstrating impressive results in test applications. There are a large number of wastewater treatment ponds in New Zealand and INVENT's HYPERCLASSIC Mixing and Aeration System offers an ideal solution for efficient mixing and aeration.
Lagoon treatment plants offer the capability of natural wastewater treatment with little setup and little maintenance.
The HYPERCLASSIC® Mixing and Aeration System has proven its efficiency and success over the years in conventional wastewater treatment plants, and INVENT engineers designed a floating platform for their use in pond treatment plants.
Fixed with taut tie ropes, the hyperboloid-shaped mixer effectively mixes the wastewater pond. The HYPERCLASSIC® Mixing and Aeration System provides aeration with the process air escaping through the hollow shaft to which the mixer body is attached. The air is distributed in fine bubbles thanks to the uniform rotary motion of the mixing element. This makes the clarification process considerably more energy-efficient.
The HYPERCLASSIC® Mixing and Aeration System Float signals a milestone for pond treatment plants. System installation, including the platform, is extremely straightforward. The main components are mounted near the pond treatment plant. Except for regular visual inspections and an annual oil change, the system requires no major operation effort or maintenance.
This system has been installed at a wood processing plant in central Sweden with great success. INVENT's mixer/aerators revealed astonishing results – the floating mixer/aerators mix and aerate nineteen times the volume for marginally more power consumption – compared to the original surface aerators.
These mixer/aerators also fully mix the ponds where the surface aerators fail.
As a result of these field tests, the Swedish operating company ordered four of the HYPERCLASSIC® Mixing and Aeration Systems Float for the aerated zone and four HYPERCLASSIC® Mixing Systems Float (without aeration) for the anoxic (oxygen-free) zone at the inlet. They also purchased two iTurbo® -Blowers for the air supply. (JIPL supplied 4 iTurbo blowers recently to the Rotorua Wastewater Treatment Plant.)
News of their success with the mixing and aeration system spread and the owners of a similar plant in southern Sweden also ordered a HYPERCLASSIC® Mixing and Aeration System Float and an iTurbo® blower.
JIPL is committed to providing the latest and most innovative technology available worldwide to the New Zealand market.
For more information on these products email: info@jipl.co.nz