JIPL are a team of process engineering experts who provide customised process solutions to suit every client's individual and specific requirements. We specialise in optimising processes for manufacturers, including powder coaters, to ensure optimal quality and productivity, with minimal operating costs (labour, energy, maintenance).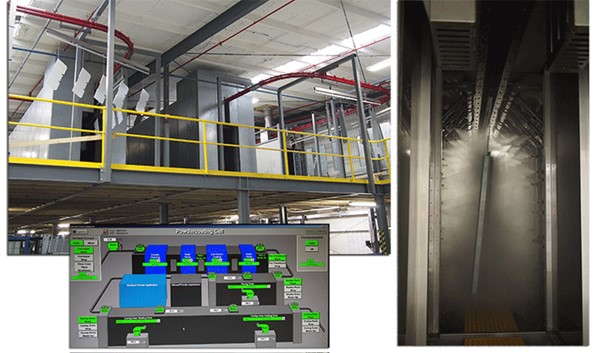 One of our clients Temperzone Ltd was experiencing problems with their powder coating line which was creating a major bottleneck in the production of their large range of commercial air conditioning units. In their quest for a state-of-the-art solution, Temperzone turned to Jonassen Industrial Projects Limited to replace their existing plant and provide a fully automated powder coating plant.
The old line was running three shifts whereas the new JIPL installed line has reduced this significantly down to a single day shift.
After identifying the issues and scoping the project JIPL worked with the client to develop the solution. JIPL undertook the full design, project management, installation supervision, and commissioning services.
"The new plant has resulted in a dramatic increase in productivity. It is much better from a scheduling point of view and in terms of lean manufacturing," Sam Connor, Temperzone's production manager reports.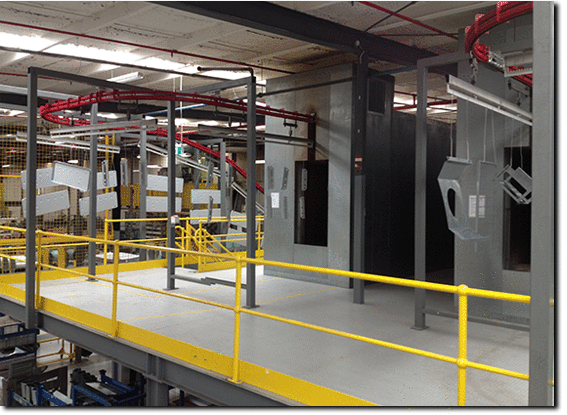 JIPL's comprehensive turnkey solution included a power and free overhead conveyor to transport products from the manufacturing floor up to the high level, a fully stainless steel, four-stage, and spray pre-treatment line (36 m long) with the process tanks located in a bund on the lower level factory floor. The overhead conveyor continues through a pre-coating drying oven, an integrated Nordson auto-spray powder application unit and a custom designed two-stage, 38m long, curing oven equipped with JIPL's unique, innovative air seals. Special features include a wastewater treatment plant, and a very comprehensive control and process management system that provides real time data and trends for control and plant management.
JIPL is working on several process and powder coating projects at the moment and is New Zealand's foremost provider of quality, cost-effective powder coating plants, including:
Overhead Conveyors (Standard or Power & Free)
Pre-treatment Plants (dip and spray types)
Ovens (Drying & Curing)
Cooling Plants
Wastewater Treatment Systems
Integrated Control Systems and Scada
Kit set solutions available
This project is another example of how JIPL takes pride in its ability to listen to their customers, applies and cross transfers technologies and ideas to provide innovative, practical and efficient engineering solutions.