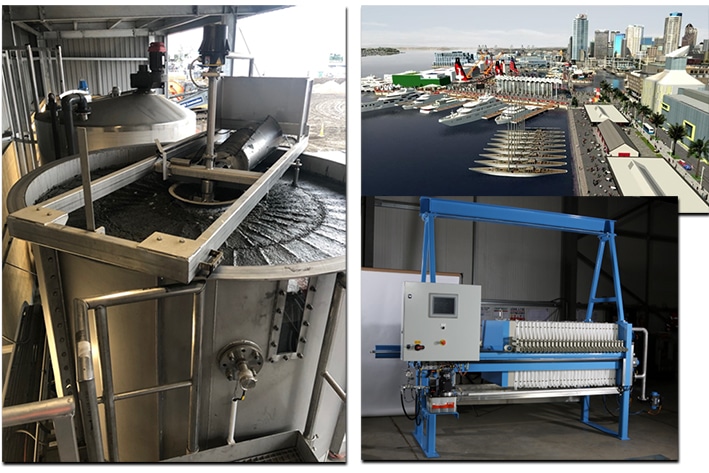 Orams Marine was searching for a suitable solution for their wastewater, looking at both environmental outcomes and operability to handle increased traffic for America's Cup, along with regular NZ based maintenance work.
The servicing of boats on Marina hardstands is a complex issue with highly contaminated washwater needing to be separated from the site stormwater and large open working areas. This necessitates flexibility with daily washwater volumes from none at all to 600 m³ on this site. Rainfall from clean areas is treated separately in specialist stormwater treatment devices.

The overall site design was undertaken by Industrial Waters Solutions Group (IWS) who also supplied the waters segregation, collection, storage, chemical dosing, batch treatment and control systems. JIPL was engaged to provide two significant items of treatment plant – a Dissolved Air Flotation system for the continuous treatment on large flow days and a Plate Filter Press for solids dewatering.

To deal with this variable wastewater flow, JIPL supplied KWI's MiniCell DAF unit as the most cost-effective option and a dewatering system in the form of a Latham Plate Filter Press (PFP). These items are key parts of the overall Best Practicable Option approach, resulting in a significant reduction of contaminants being discharged into the Hauraki Gulf.

All industries are under increasing pressure to improve their environmental performance. Water is an increasingly valuable and under threat resource. The supply of high-quality water and the best treatment of wastewater is one of the most important goals of our time and sustainability and resource recovery lies at the heart of JIPL's water and wastewater technologies.

JIPL works with the KWI Group, global leaders in water and wastewater treatment technologies, to provide cost-effective water and wastewater treatment in an environmentally sustainable way.

KWI are specialists in clarification and DAF technology with over 4,700 installations in over 77 countries, including New Zealand. The KWI logo is synonymous with quality and efficiency and KWI is the only company worldwide with the most complete range of DAF technologies (11 different applications), including round DAF plants.

To deal with Oram Marines' variable wastewater JIPL supplied KWI's MiniCell DAF unit as the most cost-effective option and a dewatering system in the form of a Plate Filter Press (PFP). The DAF was specifically designed much deeper than usual to deal with a variety of solids and contaminants, such as marine growth, antifouling paint fines, dust, dirt and shells etc.

The purpose of the DAF is to enable rapid and thorough separation of the fractured wash water in continuous flow mode. This results in low toxicity of the discharge into the Hauraki Gulf.

Dissolved Air Flotation (DAF) is an effective industrial and municipal wastewater treatment, clarification, and thickening technology that deals with a variety of contaminants.
DAF is a water treatment process that clarifies wastewater by removing suspended matter such as oil or solids and heavier settled matter. In some cases, the valuable fats are removed and recovered by the DAF plant (without any chemical additions). This is an important method for resource recovery.
KWI manufacture and supply wastewater treatment systems to several industries that help customers reduce trade effluent costs and ensure that they do not breach their discharge consents. DAF plants help customers reduce fats/oils/greases; suspended solids; and resultant chemical oxygen demand (COD) and compact, efficient, simple to operate and economical to run.
Advantages of DAF
Small footprint
Less energy and chemical consumption
High sludge concentration: up to 5% of solid content
Allows efficient and optimal polymer dosing, therefore minimising the polymer consumption
JIPL, together with KWI, makes it their mission to provide the best engineered and most cost-effective solutions and to provide excellent technical & maintenance backup service. With KWI's worldwide experience and quality products, JIPL is confident that a solution can be found for every water and wastewater need using the very latest technology in water conditioning and treatment.
For more information email: info@jipl.co.nz.