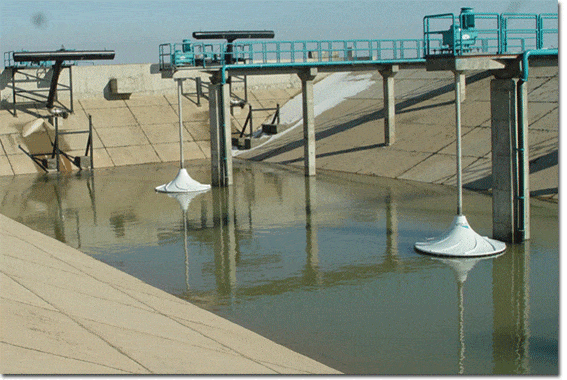 iSBR® /iGSR® -System The INVENT Sequencing Batch Reactor System with iC3-Technology
Water is the essence of all life. But the pollution of our waters is reaching ominous levels. This makes the purification of contaminated water and the provision of high-quality water the most important ecological task of our times. Since the early 90s INVENT Umwelt- und Verfahrenstechnik AG has developed, produced and globally sold innovative machines, systems and processes for the efficient purification and treatment of water. These products contribute to the preservation of water quality on a global scale.
The INVENT Sequencing Batch Reactor
The Sequencing Batch Reactor Process (SBR) is ideal for the biological treatment of municipal or industrial wastewater. Batch processes have the enormous advantage that the reactor behaviour is defined, the boundary conditions stay constant and unexpected events are unlikely to occur while running the treatment cycle.
The INVENT HYPERCLASSIC® -Mixing and Aeration System is the core of each SBR plant. The HYPERCLASSIC® -Mixing and Aeration System can effectively mix without aeration and at other times efficiently aerate and mix the wastewater. Therefore it is the ideal product for any cyclic or intermitted process.
INVENT has developed a full product family for SBR plants such as inlet flow distributors, decanters, blowers, filters, advanced control systems, and a proprietary surplus sludge retrieval system. JIPL offers INVENT's exclusive set of products to the New Zealand market with individual process design and engineering packages, optimized for each individual plant and application. This is called the INVENT Sequencing Batch Reactor – iSBR®.
The iSBR® -System can be applied in all wastewater treatment applications such as:
Municipal wastewater treatment
Industrial wastewater treatment
De-ammonification processes
Granular sludge processes
If beneficial for the case at hand and with suitable wastewater we can design the process and operate our iSBR® in such a way that granular sludge develops and remains in the reactors. In these cases, this is called the INVENT Granular Sludge Reactor Process or: the iGSR® -Process.
iSBR® /iGSR® Key Equipment

A typical INVENT SBR® /GSR® Project begins with the analysis of the wastewater characteristics, the local conditions, and the required effluent conditions. It is very important to understand the client's preferences and boundary conditions.
The iSBR® /iGSR® Key Equipment includes the following items:
Inflow Distribution System
HYPERCLASSIC® -Mixing and Aeration System
iDEC® -SBR Decanting System
Surplus Sludge Retrieval System
INVENT iTURBO® -Blower
iSBR® Control System (optional)
iFILT® -Diamond Filter (optional)
Overall Process Design
The optional continuous influent feed mode offers a further major advantage compared to conventional true batch reactors. Including this feature with the iSBR® /iGSR® creates a more robust process and a simplified operational scheme. This can only be achieved with proper reactor design, influent feed control, effective equipment selection and efficient process cycle strategy control. The result is a reliable and superior treatment plant.
JIPL offers the complete iSBR system solution from INVENT, which includes process guarantees –  JIPL / INVENT  takes responsibility for the entire scope of delivery.